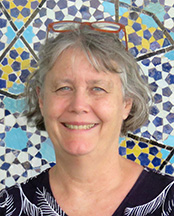 Bio
Reni Gower has over 40 years of professional experience in the fine arts. Her work has been showcased internationally in Qatar, UAE, Australia, Italy, Peru, Korea, Israel, Belgium, England, Moldova, and Moscow. Additional national venues include the Bellevue Museum of Art, Bellevue, WA; Las Cruces Museum of Art, Las Cruces, NM; Loveland Art Museum, Loveland, CO; Mesa Contemporary Art Museum, AZ; Zukerman Museum of Art, Kennesaw, GA; Muskegon Museum of Art, MI; Rawls, Museum, Courtland, VA; Taubman, Museum, Roanoke, VA; Kimball Art Center, Park City, UT; McLean Project for the Arts, McLean, VA; Erie Museum of Art, Erie, PA; Villa Terrace Decorative Art Museum, Milwaukee, WI; South Carolina State Museum, Columbia, SC; Southeastern Center for Contemporary Art, Winston-Salem, NC; Virginia Museum of Art, Richmond, VA; Munson-Williams-Proctor Institute, Utica, NY; Everson Museum, Syracuse, NY; Tweed Museum of Art, Duluth, MN; The McKinney Avenue Contemporary, Dallas, TX; Tinney Contemporary, Nashville, TN; and Chroma Projects, Charlottesville, VA.
Ms. Gower has received numerous grants and awards including a 2023 Virginia Commission for the Arts - Works on Paper Fellowship; 2020 Pollock-Krasner Foundation Grant; 2017 SECAC Award for Outstanding Artistic Achievement; 2014 College Art Association Distinguished Teaching of Art Award and the 2014 Virginia Commonwealth University and VCUarts Awards of Excellence in Teaching; as well as NEA / SECCA Southeastern Artist Fellowship; Virginia Commission for the Arts Project Grants; SECAC Awards of Excellence in Teaching and Outstanding Catalogs of Contemporary Materials; VCUarts Faculty Grants for Curatorial Projects; and two Ford Foundation Grants awarded through Syracuse University. Her work is represented in various collections including the Library of Congress Print Collection; Pleasant Company / Mattel, Inc; the American Embassies in Lima, Peru and Osaka, Japan;
Global Centre for Drawing, Melbourne, Australia;
Capital One; and the Federal Reserve Bank.
After 37 years, Professor Emerita Gower retired from the Painting and Printmaking Department at Virginia Commonwealth University in December 2018. In addition to her studio practice, she curates award winning traveling exhibitions for Wylie Contemporary Inc and is available for workshops in papercutting, encaustic, and professional practices for artists. She is a past member of
College Art Assosciation's Services to Artists Committee as well as
past board member of SECAC. She holds a Master of Fine Arts degree from Syracuse University, a Master of Arts degree from University of Minnesota-Duluth, and a Bachelor of Science degree from the University of Wisconsin-Madison.
Ms. Gower currently resides in Virginia.